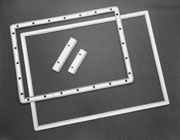 Rigid Frame Gaskets
MAJR Products' EMI/RFI rigid frame gaskets consist of an aluminum extrusion with a specially designed jaw. When closed, the jaw crimps the fin of the knit wire EMI gasket to form a rigid construction with the EMI gasket held firmly in place.
Using MAJR's rigid frame gaskets allows for mechanical mounting in problem areas for cabinets and enclosures including doors and access panels that need EMI/RFI shielding that are frequently opened. The rigid frame gasket is designed to control compression on the chosen gasket material ensuring the gasket material doesn't take a compression set over time. It also acts as a mounting surface allowing the use of bolts or screws to secure the gasket to a flange instead of relying on adhesives which can degrade quickly in harsh environments.
This extrusion, when fabricated into a frame with the corners of aluminum extrusion mitered and heliarc welded, provides a gasket assembly that can be installed with flat-head screws. This design makes retro-fitting in the field a relatively easy task while at the same time providing a positive stop for controlled compression of the EMI gasket.
For applications requiring a moisture seal, an elastomer strip can be bonded to the edge of the extrusion opposite the gasket or a dual purpose EMI and weather seal gasket can be installed in place of the wire mesh.
An added barrier to EMI/RFI interference can be achieved by utilizing a double-shielded construction. The double-shield gasket is recommended for large doors where controlling the mating surface joint unevenness can be difficult and expensive. A further consideration for utilizing the rigid frame approach is the load bearing support of extruded aluminum that aids in applications where shock and vibration are encountered.
For more information about
Rigid Frame Gaskets,
fill out the form or call us at 877-625-7776
Features
Built to your specifications: MAJR's engineering team will work with you to design a Rigid Frame Gasket to meet your custom requirement.
Versatility of Materials: MAJR provides the standard knit wire mesh in either monel, tin-plated ferrous or knitted mesh over core as well as conductive elastomer profiles to best accommodate your requirement.
High EMI/RFI Attenuation Levels: The highest possible attenuation levels are achievable with MAJR's EMI/RFI knitted wire gasketing. Attenuation levels beyond 110 dB in the E-Field and 65 dB in the H-Field are common with MAJRís shielding gasketing. Higher levels of attenuation are attainable with special materials and special design available through MAJR's engineering team.
Resilient Gasketing Material: MAJR's knit wire gasketing material acts like thousands of tiny spring members which are compressed and released with each opening and closing of a cabinet door or enclosure cover. The spring-look gaskets assure long life with consistent point-to-point contact, providing high shielding effectiveness and long life.
Mounting
Rigid mounting frames, which provide a positive stop to prevent over-compression of shielded gaskets, can be mounted to the access cover or enclosure. Mounting to the access cover is the recommended method. This minimizes the possibility of damage to the EMI/RFI gasket during servicing when the cover is removed. Also mounting to the cover will add to the rigidity of the cover assembly.