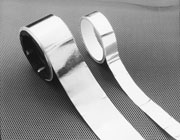 Shielding tapes are an economical EMI shielding solution for a variety of commercial uses. The tapes are available in copper or aluminum backed with conductive pressure-sensitive adhesives. Copper tape meets the requirements of MIL-T-47012 for corrosion resistance. Typical properties are shown in Table 1.
Copper tape is available with a non-conductive adhesive for applications requiring surface conductivity only. Standard length rolls and die-cut custom shapes can be ordered. Other types of shielding tape are available by request.
Fill out the form or
Call Us at 877-625-7776
Typical Applications for Shielding Tapes
Provide a low impedance connection between a braided cable shield and the metal connector backshell in molded cables. An effective EMI-shielded assembly can be achieved without soldering the tape to the braid or backshell.
EMI radiation measurement trouble-shooting, using tape to shield ventilation slots or seam gaps.
Provide electrical continuity in seams of EMI shielding rooms and electronic enclosures.
Supply electrical contact to surfaces that can't be soldered,such as conductive plastic or aluminum.
Provide EMI shielding for cables when tape is wrapped around the cable. (An overlap is recommended.)
Provide corrosion-resistant ground contact points.
Fabric tape available where weight and flexibility are important, such as for wrapping cables.
Properties — Table 1
Color

Copper 2 mil Copper Foil
with Conductive Acrylic Adhesive
Silver 1.8 mil Aluminum Foil
with Conductive Acrylic Adhesive
Silver 5.0 mil Conductive Fabric
with Conductive Adhesive
Color
Copper
Silver
Silver
Tempurature
Resistance
155 degress C"
—
-40 C to +110 C
Resistivity
through Adhesive
10 milliohms/square inch

40 milliohms/

square inch

50 milliohms/square inch
Elongation
at Break
4%

5%

—
Backing
.0014" (1oz) Copper Foil

.0018" Aluminum Foil

0.003" conductive fabric
Adhesive
Conductive Acrylic
Conductive Acrylic
—
Inter Liner
Polyethelene Coated Paper Line
—
—
Thickness
.0035" +/-.0005"
.0036" +/-10%
.005" +/- 10%
Adhesive (thickness)
—
—
.002"
Peel Strength
35 oz./inch of width
35 oz./inch of width
51 oz./inch of width
Breaking Strength
25 lbs./inch of width
15 lbs./inch of width
—
RFI attenuation
—
—
90 – 100 dB from 20 MHz to 10 GHz
Tape Dimensions
(Max)
—
—
Width 1000mm, Length 100 M