Custom Board Level Shielding (5300 Series)
MAJR specializes in the design of custom shielding solutions, our Board Level Shields are manufactured specifically to meet each individual customers requirement. Using precision Photo Etching or Stamping techniques, MAJR can supply custom tailored solutions in a matter of weeks.
This 'custom' approach is essential if functionality and the use of 'real estate' are to be optimized.
Our experience enable MAJR to offer design assistance upfront which allows our customers to get the product they need without spending precious time working on Boad Level Shield designs in-house.
Please click here to review our Board Level Shield (BLS) types and styles
Manufacturing methods offer broad design scope and flexibility
Low cost tooling represents a low risk entry strategy
Bend lines offer greater coplanarity for easier assembly
Any mounting method, (conventional through hole, SMT or mechanical) can be accommodated
Unique design features ease assembly and optimize performance
High efficiency heat dissipation venting available at no extra cost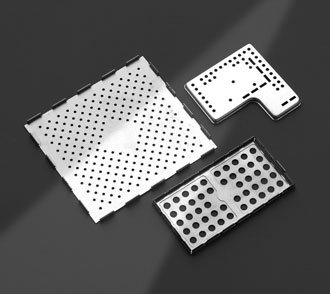 Please click here to review our Board Level Shield (BLS) types and styles