The MAJR Conductive Coatings Advantage
Our conductive paints usually contain non-oxidizing copper which, when mixed thoroughly, gives the plastic surface its conductivity.  With approximately 25% solids, even a piece of paper can have conducting/attenuating qualities when they are applied. But the real advantage of our conductive paints lies in their low cost, ease of use and flexibility during production.
Easy Adaptability to Enclosure Designs
Less Expensive than Other Coating Solutions
Achieves Volume Production with Minimal Investment
Exceeds MIL-461 and UL Standards (75dB from frequencies of 1 MHz to 1 Ghz)
Super Adhesion Qualities
Easy to Respray or Mask Off
For us in HVLP or Standard Paint Guns or Robotic Spray Systems
Quick Flash Off Between Coats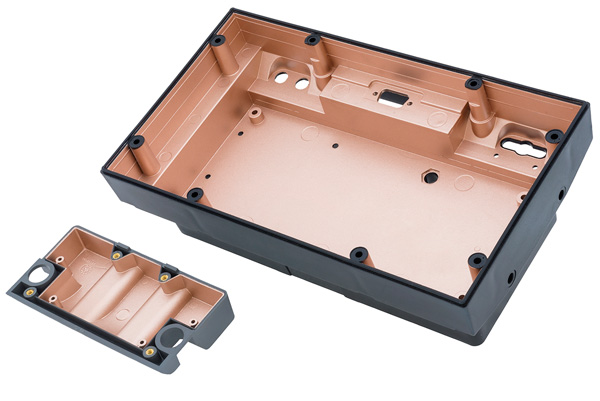 MAJR Conductive Coatings:
Cost Effective
Easy to Apply
Superior Attenuation
With superior attenuation and the ability to cover complex plastic enclosure designs more rapidly and easily than chemical plating dips or vacuum deposits, conductive coatings are the cost effective and preferred EMI shielding choice, whether you are covering one protype or a mass production run.
For superior conductive coatings for military
or civilian plastic hardened enclosures,
contact the experts at MAJR Products by filling out the form
or calling us at 877-625-6033
For Complete EMI Shielding of a Plastic Hardened Enclosure…
…Have you considered MAJR Products' extensive selection of and experience with EMI Shielding Gaskets and Tapes?
We have EMI/ RFI shielding tape, knitted wire mesh gasketing, strip gasketing, Multicon EMI gasketing, conductive die cut, molded, and O-ring gaskets…all to fill in those gaps, spaces or openings of your plastic hardened enclosure…all with:
Unique EMI/RF attenuation properties,

For specific environments and uses,
In a multitude of stock or customizable configurations!