The best way to mitigate the threat – HEMP shielding and IEMI shielding products from MAJR!
Besides the risk of a HEMP (High-Altitude Electromagnetic Pulse)  attack from rogue nations such as North Korea and Iran, electronic, computer, data and power systems are also vulnerable to the next likely form of terrorism and criminal activity; IEMI (Intentional Electromagnetic Interference).  Complete EMP Shielding is the best defense.
The Danger Presents the Need for EMP Shielding
HEMP is defined as an instantaneous, intense energy field (such as from a high-altitude nuclear explosion) which has the potential to overload and disrupt all electrical systems and tech microcircuits from great distances. IEMI, on the other hand, is the intentional malicious generation of electromagnetic energy from closer ranges. It is much like an intense solar storm generated from the back of a van in your parking lot and aimed at damaging and disrupting vital pockets of your community systems such as banking, data storage, healthcare and portions of the power and communication grids.
The reason an IEMI event is so dangerous, even though it is smaller in nature, is two-fold:
Our dependence on computer and electronic monitoring and control systems has grown rapidly in the past two decades to the point that a single, local attack would not only have devastating consequences for the system targeted but, because systems are so interdependent, the ripple effect could be widespread.
It is ridiculously easy to learn how to build and rapidly construct a small generator which can fit in a transport van or truck, making criminal detection difficult but damage easy to carry out.
MAJR Products Corporation carries a wide variety of products to enable the military, power and civilian industries, and their systems, protection from IEMI by helping turn these systems into a functioning "Faraday Cage", for HEMP Shielding and IEMI Shielding of susceptible electronic and electrical systems. Our line takes into account all vulnerable points which act as an antenna of electromagnetic energy, and for which there needs to be EMP Shielding, such as:
Power & Signal Panels
Door & Panel Hinges, Latches & Brackets
Floor Drains
Structure Seams & ISO Intermodal Container Brackets
Antenna Mounts
Cable & Connector Panels
Structural Bolts
* Commercial shielded facilities and enclosures usually have lower HEMP shielding and IEMI shielding requirements than does the military.  An exhaustive and informative tech specification bulletin for commercial applications is IEC TS 61000-5-10, and can be purchased from ANSI.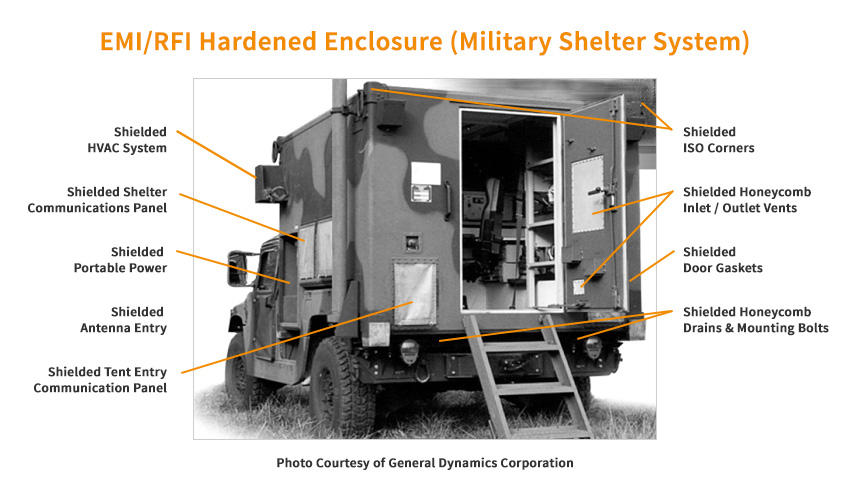 Conductive rubber may be one of your most valuable assets when engineering for civilian or military projects.  It can help you achieve both EMI shielding and environmental protection of your application to required specifications.  It can also be cut or shaped to your needs, making it very versatile.  Conductive rubber could be one of those…
MAJR Products Corporation
A veteran owned small business (VOSB) and ISO 9001 certified since 2005, we have been an internationally recognized manufacturer of Electromagnetic Interference/Radio Frequency Interference (EMI/RFI) shielding products to some of the largest defense contractors for nearly 25 years.
Whether through EMC consulting services, customization to your needs and specifications, or with the many EMP shielding products we provide, we stand with you to bring products from design concept, through testing compliance and on to full production for the military, telecommunications, IT/computing and consumer, industrial, instrumentation and medical electronics industries.