MAJRabsorber™: An Innovative RF Absorber Material
Electromagnetic interference (EMI) is a major issue anywhere electronic circuits are found. Mitigating factors like increases in device frequency, high integration in electronic systems, higher power densities, and reductions in PCB thickness and size all contribute to EMI.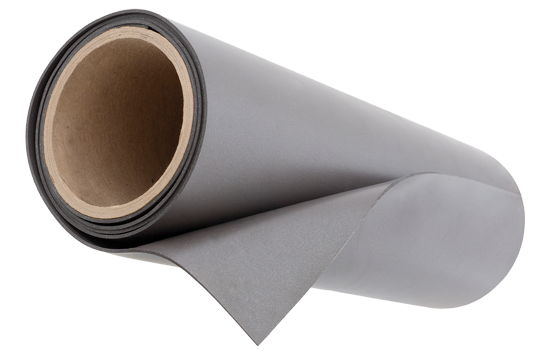 Shielding electronic devices from electromagnetic noise with conductive materials, such as shielded enclosures, foil tape, or conductive gaskets are standard solutions. But when devices operate at high frequencies, causing complex EMI problems that cannot be removed with conductive shielding, flexible absorber sheets can be used to suppress unwanted high-frequency stray noise.
Thin, Flexible Microwave Absorption for RFI / EMI Shielding
MAJRabsorber™ is a thin, flexible, and highly resistive broadband microwave absorber material. This magnetically loaded material reduces EMI emissions and crosstalk, reflections, and damps electronic cavity resonances. It's a unique product that incorporates an internally centered electromagnetically reflective surface and therefore very useful:
Between circuit boards for effective microwave absorption on both sides without concern of shorting electronic components. Since it is flexible and tear-resistant, MAJRabsorber™ can be used with flex or rigid circuit boards and cut to any configuration.
As a stand-alone free space broadband electromagnetic microwave absorber.
As a free space "Faraday cage" type shield to wrap around an emission source to shield and reduce "Q".
Will enable a non-conducive molded plastic enclosure to be used as a semi shielded enclosure reducing weight and cost.
MAJRabsorber™ achieves its effectiveness due to specific blend of electromagnetic absorbing powders in a silicone base in addition to a flexible and electrically conductive layer centered between two non-conductive RF absorbing layers. The electrically conductive layer reflects initially dampened radiated emissions and affiliated currents 180 degrees back through the absorbing layers as a unique second radiated emission absorbing process.
Unique. Multi-layered. Ultra-tough. RF Shielding Material.
The major difference in MAJRabsorber™ versus other RF shielding material is its multi-layered construction. Because of the non-conductive outer layers, it can be placed between close circuits without fear of shorting out sensitive components while helping isolate them. Other advantages of MAJRabsorber™ include:
Ultra-tough material but flexible for use in oddly shaped hardened enclosures
Tear-resistant for those difficult spaces during handling and transport
Corrosion-resistant and efficient at both ends of the extreme temperature spectrum
MAJR Products can make MAJRabsorber™ a cost-effective RF shielding option because we manufacture in roll form and custom cut to your specifications, thereby creating a more efficient sales and installation process for our clients and us!
How to Purchase MAJRabsorber™
Tomorrow's innovation for today's EMI/RFI shielding needs: That's been MAJR Products' mantra for 25 years. Look for MAJRabsorber™ in roll form (and quickly produced custom die-cuts), strips, sheets and pads in various shapes with no pressure-sensitive adhesive (PSA) or PSA applied to one or both sides. You'll soon see it in the most progressive military or civilian electronic engineering programs, which are hopefully your own.
MAJR Products, located in Saegertown, Pennsylvania, is one of the leading manufacturers of EMI/RFI gaskets, shielding, and ventilation panel products. We've been designing and developing solutions for over 25 years. Contact MAJR to connect with a specialist or receive a quote from our experienced team of professionals.