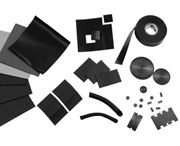 Broadband Microwave Absorber Materials (6500 Series)
Introducing the MAJR Products 6500 series Broadband Microwave Absorber material product line. The 6501 product is an RoHS Compliant 6500 electromagnetic absorbing material, sheet stock. This absorber is used in a wide variety of markets such as Cellular and telecom, electronic device, radar cross section reduction, and a variety of other antenna and electronic housing applications.
The 6501 material is an elastomer based thin, flexible, and easy to install in even the tightest of applications. The absorber can be supplied die cut or water jet cut to your specification. In addition, for installation ease the absorber can be supplied with pressure sensitive adhesive.
Features
*This material is ultra soft and can be applied to irregular surfaces. *Incorporation of a self adhesive backing for ease of use in general to high altitude / vibration applications.
PROPERTY
ABSORBER 6501
CHARACTERISTIC
Frequency
10 MHz – 8 GHz
MIL-A-17161D
Loss dB @1.0mm thk: 0.9GHz (-1.7), 1.8 GHz (-2.35), 2.4 GHz (-3.04)
Thickness w/o adh.
0.22mm, 0.25mm, 0.33mm, 0.6mm, 1.0mm, 1.5mm, 2.0mm, 2.5mm
Temperature range
-20oC to +100oC
Surface resistivity
106 Ohm
RoHS
Compliant
Color
Gray/Black
Application use

Cellular and Telecom
Military — Reduction of radar cross section
RFID Tag / Readers – Antenna Systems
Oscillators and Amplifiers
Aeronautical devices
GPS systems
Digital camera and video recorders

Standard size
40 cm x 40 cm
Fill out the form or
Call Us at 877-625-7776