Honeycomb Waveguide Panels
Series No. 3000
Like MAJR's EMI/RFI Shielded Ventilation Panels, EMI/RFI Shielded Fan Ventilation Panels, EMI/RFI Shielded Air Filtration Panels, and EMI/RFI Shielded Honeycomb Ventilation Panels, our Honeycomb Waveguide Panels provide optimum shielding.
MAJR's shielded honeycomb waveguide panels provide optimum EMI/RFI shielding with minimum pressure drop for the ventilating air.
Their special design lets air flow into and out of an EMI/RFI shielded enclosure. This feature allows for the cooling of electronics as well as air circulation for manned military shelters as well as electronic boxes and cabinets. The circulating air can also be used to either heat or cool an area depending on the external environment.
Standard Products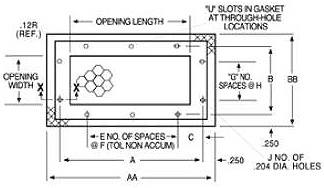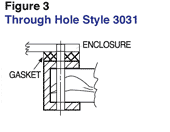 Table 1 – Style 3031 Honeycomb Filter with Through Holes
Part Number

OPENING (inches)
FRAME DIMENSIONS (inches)
Width
Length
AA
BB
A
B
C
D
E
F
G
H
J
3031-20303-XX
3.00
3.00
4.00
4.00
3.50
3.50
1.75
1.75
—
—
—
—
4
3031-20305-XX
3.00
5.00
6.00
4.00
5.50
3.50
1.00
1.75
1
3.50
—
—
6
3031-20311-XX
3.00
11.00
12.00
4.00
11.50
3.50
1.25
1.75
3
3.00
—
—
10
3031-20404-XX
4.00
4.00
5.00
5.00
4.50
4.50
.750
2.25
1
3.00
—
—
6
3031-20409-XX
4.00
9.00
10.00
5.00
9.50
4.50
1.25
2.25
2
3.50
—
—
8
3031-20505-XX
5.00
5.00
6.00
6.00
5.50
5.50
1.00
1.00
1
3.50
1
3.50
8
3031-20511-XX
5.00
11.00
12.00
6.00
11.50
5.50
1.25
1.00
3
3.00
1
3.50
12
3031-20606-XX
6.00
6.00
7.00
7.00
6.50
6.50
1.50
1.50
1
3.50
1
3.50
8
3031-20609-XX
6.00
9.00
10.00
7.00
9.50
6.50
1.25
1.50
2
3.50
1
3.50
10
3031-20714-XX
7.00
14.00
15.00
8.00
14.50
7.50
.750
.750
4
3.25
2
3.00
16
3031-20909-XX
9.00
9.00
10.00
10.00
9.50
9.50
1.25
1.25
2
3.50
2
3.50
12
3031-21111-XX
11.00
11.00
12.00
12.00
11.50
11.50
1.25
1.25
3
3.00
3
3.00
16
3031-21414-XX
14.00
14.00
15.00
15.00
14.50
14.50
1.25
1.25
4
3.00
4
3.00
20
3031-21818-XX
18.00
18.00
19.00
19.00
18.50
18.50
1.75
1.75
5
3.00
5
3.00
24
Replace -XX with the following: -32 (chromate aluminum), -42 (tin aluminum), -43 (brass), -44 (tin steel), -90 (RoHS compliant)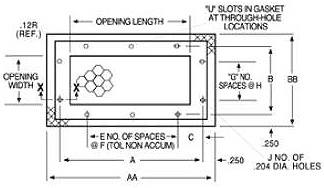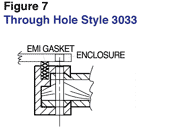 Table 2 – Style 3033  Honeycomb Filter with Through Holes
Part Number

OPENING (inches)
FRAME DIMENSIONS (inches)
Width
Length
AA
BB
A
B
C
D
E
F
G
H
J
3033-20303-XX
3.00
3.00
4.25
4.25
3.50
3.50
1.75
1.75
—
—
—
—
4
3033-20305-XX
3.00
5.00
6.25
4.25
5.50
3.50
1.00
1.75
1
3.50
—
—
6
3033-20311-XX
3.00
11.00
12.25
4.25
11.50
3.50
1.25
1.75
3
3.00
—
—
10
3033-20404-XX
4.00
4.00
5.25
5.25
4.50
4.50
.750
2.25
1
3.00
—
—
6
3033-20409-XX
4.00
9.00
10.25
5.25
9.50
4.50
1.25
2.25
2
3.50
—
—
8
3033-20505-XX
5.00
5.00
6.25
6.25
5.50
5.50
1.00
1.00
1
3.50
1
3.50
8
3033-20511-XX
5.00
11.00
12.25
6.25
11.50
5.50
1.25
1.00
3
3.00
1
3.50
12
3033-20606-XX
6.00
6.00
7.25
7.25
6.50
6.50
1.50
1.50
1
3.50
1
3.50
8
3033-20609-XX
6.00
9.00
10.25
7.25
9.50
6.50
1.25
1.50
2
3.50
1
3.50
10
3033-20714-XX
7.00
14.00
15.25
8.25
14.50
7.50
1.50
1.50
3
3.50
1
3.50
16
3033-20909-XX
9.00
9.00
10.25
10.25
9.50
9.50
1.25
1.25
2
3.50
2
3.50
12
3033-21111-XX
11.00
11.00
12.25
12.25
11.50
11.50
1.25
1.25
3
3.00
3
3.00
16
3033-21414-XX
14.00
14.00
15.25
15.25
14.50
14.50
1.25
1.25
4
3.00
4
3.00
20
3033-21818-XX
18.00
18.00
19.25
19.25
18.50
18.50
1.75
1.75
5
3.00
5
3.00
24
Replace -XX with the following: -32 (chromate aluminum), -42 (tin aluminum), -43 (brass), -44 (tin steel), -90 (RoHS compliant)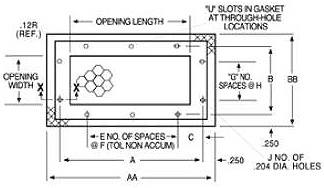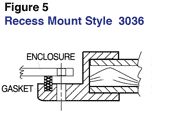 Table 3 – Style 3036 Honeycomb Filter with Through Holes
Part Number
OPENING (inches)
FRAME DIMENSIONS (inches)
Width
Length
AA
BB
A
B
C
D
E
F
G
H
J
3036-20303-XX
3.00
3.00
5.25
5.25
4.50
4.50
2.25
2.25
—
—
—
—
4
3036-20305-XX
3.00
5.00
7.25
5.25
6.50
4.50
1.75
2.25
1
3.50
—
—
6
3036-20311-XX
3.00
11.00
13.25
5.25
12.50
4.50
1.75
2.25
3
3.00
—
—
10
3036-20404-XX
4.00
4.00
6.25
6.25
5.50
5.50
1.00
1.00
1
3.50
1
3.50
8
3036-20409-XX
4.00
9.00
11.25
6.25
10.50
5.50
.75
1.00
3
3.00
1
3.50
12
3036-20505-XX
5.00
5.00
7.25
7.25
6.50
6.50
.50
1.50
2
2.75
1
3.50
10
3036-20511-XX
5.00
11.00
13.25
7.25
12.50
6.50
1.00
1.50
3
3.50
1
3.50
12
3036-20606-XX
6.00
6.00
8.25
8.25
7.50
7.50
.75
.75
2
3.00
2
3.00
12
3036-20609-XX
6.00
9.00
11.25
8.25
10.50
7.50
.75
.75
2
3.00
2
3.00
14
3036-20714-XX
7.00
14.00
16.25
9.25
15.50
8.50
.75
.75
4
3.50
2
3.50
16
3036-20909-XX
9.00
9.00
11.25
11.25
10.50
10.50
.75
.75
3
3.00
3
3.00
16
3036-21111-XX
11.00
11.00
13.25
13.25
12.50
12.50
1.00
1.00
3
3.50
3
3.50
16
3036-21414-XX
14.00
14.00
16.25
16.25
15.50
15.50
.75
.75
4
3.50
4
3.50
20
3036-21818-XX
18.00
18.00
20.25
20.25
19.50
19.50
.75
.75
6
3.00
6
3.00
28
Replace -XX with the following: -32 (chromate aluminum), -42 (tin aluminum), -43 (brass), -44 (tin steel), -90 (RoHS compliant)
HVAC Products
How To Determine The Best Waveguide For Your HVAC Project
HVAC Waveguides are ready-to-install EMI/RFI shielded panels in standard or custom sizes and are made from brass, steel or aluminum. Configuration of your waveguide panels depends on:
Required shielding levels (ex: 60 dB shielding at 10 GHz)
Magnetic field requirements
Outside dimension measurements
Mounting Method (ex: Mount into ductwork, Captive fasteners, etc.)
Airflow requirements
Please click on the "HVAC Waveguide design guide" button below to view our standard products or get started with a custom design:
HVAC Waveguide Design Guide
Product Data Sheet