The Six Benefits of the MAJRabsorber™ You Must Know to Appreciate
MAJRabsorber™ is not just another entry into the absorber material marketplace. It is truly the next generation in RF absorbers.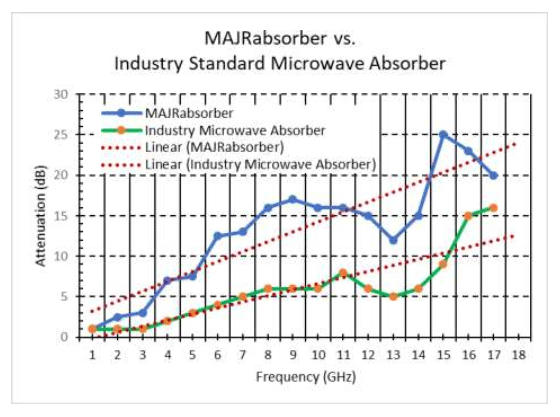 Different than any other product on the market, the physical configuration of our our RF absorber material incorporates the flexible conductive layer in between layers of non-conductive material layers. Because of this…
You can place it between circuit boards, creating improved circuit crosstalk immunity but, being non-conductive, the RF absorber material will not short out electronic components.
The base RF absorber material exhibits higher EMI/RFI attenuation than others on the market that we have tested in the same thickness.
Making it even more effective, the flexible center conductive layer provides an electromagnetically reflective surface that reflects EMI/RFI energy back through the RF absorber material.
This absorber material is very tear resistant because of the flexible center conductive layer. This makes it easier to handle during production and more robust overtime.
It very cost competitive because MAJRabsorber™ can be produced in roll form.
MAJRabsorber™ works well under extreme temperature conditions and is non-conductive, corrosion resistant, highly resistive and can come with no pressure sensitive adhesive (PSA) or with PSA on one or both sides.
Be sure and download a Data Sheet for MAJRabsorber™ to see more details about this product that is sure to become the new standard for microwave absorption – only from MAJR!