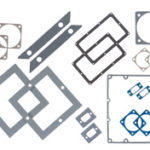 Shielding Gaskets and Tapes
MAJR Products offers a variety of shielding gaskets and tapes, including EMI/ RFI shielding tape, EMI/RFI knitted wire mesh gasketing, strip gasketing, Multicon EMI gasketing, conductive die cut, molded, and O-ring gaskets in a multitude of materials and configurations.
Each shielding gasket and tape has attributes that make them attractive for specific environments and applications. Each offers unique possibilities for the attenuation of electromagnetic interference (EMI) and radio frequency (RF) waves.