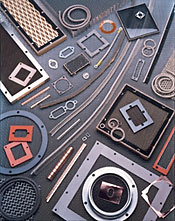 MAJR Products Corporation is an internationally recognized manufacturer of  EMI/RFI Shielding Products. (Electromagnetic Interference / Radio Frequency Interference). These products include conductive silicone gaskets, electromagnetic interference shielding, radio frequency shielding, EMI vent panels, RF shielded air panels, shielded fan vents and fingerstocks that meet mil-std-461. We serve the overall electronics industry, specifically, government, military, aerospace, telecommunications, computers, medical devices and various instrumentation, and commercial electronics.
MAJR showcases ten (10) distinctive lines of EMI/RFI products specific to the correction of problems caused by either susceptibility or emission of electromagnetic and/or radio frequency interference (EMI/RFI). These EMI/RFI shielding products reduce or eliminate electromagnetic and radio frequency "noise" associated with electronics and are usually installed in or on the enclosure or cabinet that contains the working electronics. The electronics may be as small as a hand-held telephone, or as large as a satellite communications array. Our manufacturing facility is capable of medium and long-running production.
Always striving to exceed our customers' expectations, we provide prototyping, customizing, and flexibility in scheduling in addition to quality products.